SEASONAL SELF-CARE BLOG
---
Q & A with Kate Henderson
Posted on September 29th, 2015
---
Kate Henderson will open the Healing Power of Sound workshop with an evening of Auditory Driving and Acupuncture. Not sure what that is? Keep reading…
Where are you from originally?
I was born and raised in Kentucky, but had a stint as a flight attendant so I was sort of glob for several years. But I came to NYC from Detroit where I was based with the airline.
How long have you lived in New York City?
About 13 years.
How did you decide to become an acupuncturist? Musician? How did you decide to merge the two?
I was an acupuncture patient and experienced incredible improvement. Not only in my bodily complaints at the time, but in my overall well being. It was a bit like stumbling onto an incredible, side effect free anti-depressant. I'm naturally a bit melancholic. So that was a revelation. I needed to understand it more, so I decided to pursue schooling.
I've played drums since my early twenties, and was music obsessed since I was pretty young. 
I had the idea to merge them by accident. I had experienced some powerful lucid dreaming during acupuncture sessions, as a patient. And so had several of my patients. I was reading about shamanic trance techniques using fast drumming after one of my teachers in acupuncture school had talked about training at the Foundation of Shamanic Studies. He'd had powerful experiences just using the sound of drumming to go into deep meditative states. It seemed irresistible to combine them, and see what might happen.
On Friday, October 2 you will be opening the Yoga Sukhavati: Healing Power of Sound workshop with Auditory Driving and Acupuncture. Can you explain what this is, exactly?
Auditory Driving is any sound that acts upon the brain's wave patterns and produces some sort of altered psychological state. In my group sessions, I have the participants lying on the floor and make my way around to give each of them about 4-5 acupuncture points. Then I begin drumming on deep, bass-y frame drum about 220 beats per minute for a half an hour.  After I'm done, I remove the needles and everyone slowly gets up in a bit of a daze. And then we usually sit around and talk for about 30 minutes about what happened.
Music and acupuncture can be quite healing on their own. What do you find happens when you integrate music into acupuncture and acupuncture with music?
People's states of relaxation can really deepen. Sometimes people talk about having wild, novel lucid dreams, or feel like they've gone into a very deep meditative state. Those who've had a difficult time learning to mediate find it helpful – once you know what that feels like, it's easier to replicate on your own. And people sometimes report profound insights, seeing things in their life from a different point of you since their everyday mental chatter, their inner narratives, have been bypassed.
What is the most rewarding part of working with patients in a holistic way?
That I can help change their perspective on what it means to be healthy, to trust their body and what it's telling them. To take away some of the fear of illness. To be able to show people their own body's healing potential. To be empowered and teach other people that.
Who have been some of your most influential teachers?
Shudo Denmai, a very humble and patient Japanese acupuncturist whose books really influenced me. Isobeau Trybula, an acupuncturist and owner of the clinic where I currently work. She really put me in the garden and let me grow – she taught me to trust my instincts. Dr. Brad Harding, MD, he was my teacher who first talked about drumming and trance. There are really too many to name here, but those immediately come to mind.
If you could go anyplace in the world, right now, where would you go and why?
Iceland, because it seems almost like going to outer space – the landscape and the people. Talk about an altered reality. I want that!
Join Kate for sonified needle therapy on Friday, October 2 from 7:30-9:00p.m. at Loom Yoga Center. For more information on Friday evenings event or for the full Healing Power of Sound weekend workshop, click here.
---
Sacred Sounds of Sanskrit
Posted on September 8th, 2015
---
Through my deep explorations of my body as a yogini and dancer, I have found that actually the delicate intricacies of the subtle body are most eloquently unveiled through sound.
As my yoga practice deepened, I was drawn to study Sanskrit. I had the great fortune of attending a Sanskrit workshop with Jo Brill. I loved exploring how to create the sounds of Sanskrit and thrilled to be able to actually begin to decipher the squiggly script of devanagari in just one weekend! I felt like I was cracking the code and entering a new level in my yoga studies and awareness!
At the time I was also working on a new performance piece, "Traces", which explored memory, origin, and roots.  Since Sanskrit is the mother of all Indo-European languages, it seemed to me to be a perfect way to explore the root of language in my performance piece. I took the Sanskrit alphabet with me into the rehearsal studio and played with the sounds and how they emerged from different places in my mouth. I created a sound score which became a very powerful part of the piece and my favorite part to perform. I loved the sounds and felt intrigued by how they affected me.
As I studied deeper, I learned that there is a vibrational correspondence with each of the sounds of the Sanskrit alphabet and the chakras. There are 50 letters in the Sanskrit alphabet and in total 50 petals on the chakras. Each of the letters of the Sanskrit alphabet is said to open one of the 50 petals of the chakras. Chanting the entire Sanskrit alphabet reverberates through all the petal of the chakras and their related areas in the body! Additionally the sounds of the Sanskrit alphabet offers healing and cleansing in the body by sonic stimulation of particular areas and marma points. Marmas are energy points in the body which connect with your underlying organ systems and energetic channels.
"The subtle body of sound vibration relates to the mental body and to the subtle or astral body in general, the site of the seven chakras. It creates and sustains the physical body, supporting health and well-being within it. Through changing the frequencies of the subtle body of sound, we can bring healing into the physical body and remove negativities from the mind." David Frawley
The powerful healing offered through sound vibration is an area of deep interest to me. I am excited to share the explorations through our Yoga Sukhavati: ART OF SOUND weekend workshops. Join us Sept 12, 13 for a Sanskrit immersion with Jo Brill, and Oct 2-4 for the Healing Power of Sound.
joyous heart!
Leigh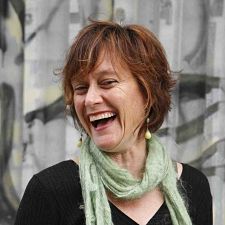 ---
Q & A with Jo Brill
Posted on September 2nd, 2015
---
We are delighted to present the Introduction to Sanskrit, with Jo Brill Sept 12, 13  through our Yoga Sukhavati: Art of Sound Module. Jo is a gifted and generous teacher and we are very excited to share her with you! We talked to Jo about her love of Sanskrit, how it enhances the teaching of yoga, and the many wonderful people she has met on her journey.
Where are you from originally? How long have you lived in NYC?
I was born upstate, in Troy, but grew up "in the middle" — Arkansas, Kansas, Missouri, Iowa. I've lived in New York State since 1980 when I started grad school, the first time, and I've lived in Peekskill (commuting distance!) since 1987.
How did you find yoga?
I started taking yoga after my first baby. Lucked into a wonderful teacher, Mia Azcue, the very first class and I have been her student since then!
How long have you practiced yoga? How long have you been teaching yoga?
I started practicing in 1988 or so — but casually. I got much more interested after a mid-life crisis in my 40s (I schedule one each decade!) and that's when I sought out training, with Fran Ubertini, and began to teach — in 2004. Fran gave us several assignments to reflect on various yoga sutras, and I got frustrated with the variances in translation and interpretation! That's what led me to Sanskrit.
How do you know Leigh?
I met Leigh when she signed up for a one-week intro intensive. That class was full of bright and loving people!! Of course Leigh was a ringleader!
Who is your sanskrit teacher?
I've studied with many wonderful teachers. My first teacher, Vyaas Houston, gave me invaluable tools for learning and focus — and his love of the Sanskrit theory of grammar proved contagious! I have had amazing opportunities to study with marvelous teachers at the University of Chicago, Oxford, Columbia, and Penn — some of the finest Sanskritists in the world. I must also mention Prof. Ramkaran Sharma, with whom I studied seven summers; his sweetness and brilliance as a teacher and a person is unparalleled.
What got you interested in Sanskrit? At what point did you decide you wanted to teach it yourself?
It was not the sound, though that attracts so many people. It was the philosophy. I wanted clarification! And I wanted it straight from the source, not distorted by commentary. Yes, I was a little naive!
Vyaas had us start teaching early. When I started in 2007, I'd been studying for just 18 months, and really didn't know much! — but I was able to teach the alphabet using his wonderful method.
What is the most rewarding part of learning sanskrit?
Sanskrit continues to teach me about the incredibly complicated texture of human learning and culture. For a while I loved the neatness — you know, like math. Turns out, as with math, when you go far enough, things get less neat! I'm just grateful that somehow I found this language, so elegant and powerful, as well as the astoundingly huge multitude of texts it opens up for the reader.
As a yoga instructor, how does learning sanskrit beyond the names of asanas enhance ones teaching?
More and more, I feel that it's important for westerners, many of us from variously privileged backgrounds, to remember that we are choosing to spend our time with cultural phenomena that are not ours by heritage. For our students' sake too, it's important not to be a jerk. Even inadvertently! While we may love the "exotic" for its power to show us truths about ourselves (more clearly perhaps than our own cultural practices do) — we should keep in mind that symbols, and certainly utterances, have religious and political implications we are almost certainly not fully aware of. It's important to keep firmly in mind that we don't know everything — on the contrary! Sanskrit has been for me a never-ending onion. Its layers and layers of meaning and significance are truly humbling.
What are you looking forward to most about being a part of Yoga Sukhavati's Art of Sound module?
I absolutely love teaching this workshop. For one thing, I have met so many lovely people through Sanskrit. So when I walk in and see your faces, and hear your voices, I know that there are warm and precious connections to be made. For another — well, any time you spend hours with these sounds, you will have fun and you will go deep! Last, I know I will learn something. It's through Sanskrit that I finally learned how grateful teachers are for students. I will love meeting each person!
You just returned from India.  Any take-aways from this most recent trip that you would like to share?
It was only my second trip. I'm still processing, but again, I must emphasize the people. Brilliant and caring teachers, a warm and wonderful host family, and awesome fellow students who broadened my mind with their wide range of interests. Such generosity!
What is your favorite activity to do in NYC?
Hmmm, that's difficult! Theater, maybe? But I also love to eat! Recently my two sons that live in Brooklyn have been showing me some great new restaurants. My third son has also treated me, but you didn't ask about Boston!
Please add anything else you would like to share!
Until we meet, भद्रं ते !
---